Clarify the "Who, What, Why" of your project
Prepare for Accelerated Action Planning by downloading this package for FREE. Includes video guidance and template to use with your team.
To begin, first download the Project Scoping Template by using the "Add to Cart" button below. The template is FREE, and you will need to access it through our shopping cart system so we have a record of your participation. We recommend printing the template and having it enlarged at a copy or office facility to use during your meeting.


FREE

Then watch this Project Scoping video with your team.
---
Activate Your Accelerated Action Plan Here
Once you and your team have completed the Project Scoping Process, purchase the Accelerated Action Plan Package to gain access to the full 23 minute video that includes everything you need to complete your project plan. The process you learn there will be invaluable for executing the plan you scoped in the exercise above.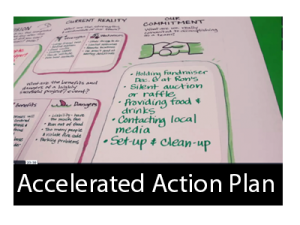 Accelerated Action Planning Package — This video guides you and your team through a step by step process for planning and setting into action your project plan. You will receive many of the same benefits of having Heidi, a professional facilitator, work with your team personally. Save time and resources and download this insightful and empowering instructional video today.
In addition to the video, you will also want to download the four .PDF templates that are included in this package and have them enlarged for use in your meeting.
You will also receive a calendar template to document your team's project plan.
Just click on the "Add to Cart" button below, and you will be directed to the download after completing your purchase. The investment for the video is $39.00 and it is valid for 60 days.