Translation Team: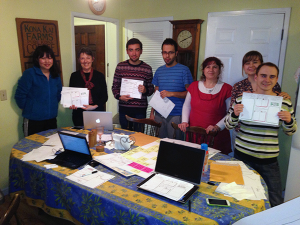 About our translation team:
Dandan Wei is from Harbin China, but has lived an attended graduate school in Japan. Dandan currently works for KIRIN beer in Japan and is attending a brewing course at UCD. She is fluent in Japanese and Chinese. Next to Heidi Kolbe is Pietro Marchioni  he is from Chile majoring in English. He is attending UCD as part of the Global Studies Program and taking classes in Linguistics and pop culture and is a gifted musician/guitarist. Next to him is Mothana AL-kanhal,  from Saudi Arabia and is a lawyer, working for the Saudi Government, he is attending the UC Davis Extension English Immersion working on improving his English reading and writing and hoping to work on a LLB certificate and Masters Degree in Law from the United States. Tatyana Tassev is a former international banker from Bulgaria who is living in Sacramento with her family and works for the San Juan Unified School District. Next to her is  Anna Shelyug from Russia, recently accepted into the PhD program at UC Davis in Material Science Engineering, she's a good runner and likes yoga. Next to her is her husband, Arseniy Bokov, who was admitted this past Fall into the PhD. program at UCD in Material Science Engineering. They are all such great folks and each one of them added so much to the magic.
We are grateful to "Casa Kimokeo International" for hosting this event.