The Kolbe Company brings collaborative leadership tools to national and international clients. We specialize in meeting facilitation, organization development, public engagement, training and consulting for government agencies and non-profit organizations. We take the pain out of meetings to make them productive and enjoyable. We have helped hundreds of organizations work through sticky issues and engage the hearts and minds of stakeholders to make a difference. We bring our professionals, trained at the Master's level, with skills and experience to unlock your team's creativity and wisdom. Let us partner with you to align your team in moving forward and accomplishing great things together.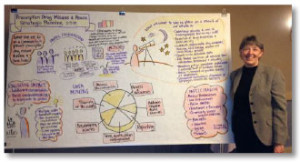 Key Differentiators:
• We bring hundreds of models to accelerate progress toward goals.
• We are the only firm in California certified by three nationally recognized entities:
International Association of Public Participation (IAP2)
International Association of Facilitators (IAF)
Institute of Cultural Affairs (ICA)
• ICA licensed to teach the powerful Technology of Participation (ToP)® methods.
• We lead productive and highly engaging meetings to spark innovation and creativity.
• We are certified in change and transition management.
• We facilitate virtually and in-person.
• We develop long range Strategic Plans in as little as two days.
• We use Accelerated Action tools to plan specific initiatives in as little as two hours.